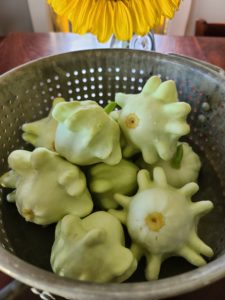 These squash are definitely part of my decision to pick produce items that were unique and might look fun on a plate at Shea's Riverside Restaurant & Bar. Apparently these beauties do double duty as both a summer and winter squash.
As a summer squash you are supposed to pick them when they are about the size of your palm (excluding the "fingers" that protrude from the fruit) and you can eat the skin and seeds. As a winter squash they get big … not sure how big yet … and then you can treat them like any other winter squash by roasting them and eating the flesh but not the hard skin.
They are working on the new menu today and I'll hopefully be publishing the updates later today. These lovely squash should make an appearance or two!